The Museum's art gallery is a fantastic art exhibition space in the North York Moors National Park. The art gallery is always free to visit and open whenever the Museum is open. The Museum and art gallery are now open on a daily basis until 2 December.
Of Life and Land
Saturday 10 February – Sunday 25 March
Of Life and Land is a curated collection of black and white photographs by Lucy Saggers. Evoking the essence of relationships and community, the exhibition shows works from Lucy's ongoing documentary project set in the village of Ampleforth, on the southern edge of the North York Moors National Park.
Taken over the last four years, Lucy says her work "seeks to shine a light on the sense of continuity that still exists in rural communities, and the way a piece of country is stitched into people's lives despite today's fast-changing times."
Lucy's 'everyday' scenes captured over the last four years were described by LensCulture magazine as "visually and thematically beautiful" and as "possessing such consciousness for texture, generosity of spirit, grasping always for the light and for humility" by the Yorkshire Art Journal.
Read more about Lucy's work and exhibition here in the Yorkshire Post, 3 February 2018.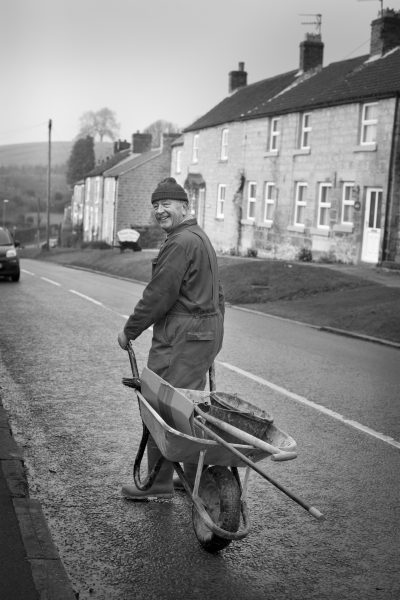 Moor Colours
Friday 30 March – Sunday 29 April
Private View – Thursday 29 March, 6-8pm
Sue Slack is renowned for her colourful portrayal of the North York Moors landscape. In this exhibition Sue shows her passion for the Moors using her classic style of continued, unbounded colour to depict the changing landforms, shapes, moor, trees and fields of the National Park. Sue works predominantly in acrylic, finding that it suits her technique of painting in layers of colour, giving her paintings a glow, likened to that of stained glass. It is, Sue says "the shape of the land which first attracts me, followed by the light and shadows playing over it"
prospect refuge hazard
Saturday 5 May – Sunday 10 June 2018
prospect  refuge  hazard   is an exhibition by artist Helen Sear taking place at Dalby Forest, Crescent Arts (Scarborough) and Ryedale Folk Museum. On display at Ryedale Folk Museum are three works with projecting the notion of the landscape as a living, managed entity. The Woods will Turn is a series of photographs of felled trees, emphasizing the mark and touch of the cuts. Viewfinder is a series of photographs of haybales – the perspective of the image appears flattened by the removal of the shadow. Cateatera Fumus is a light and image installation, first exhibited at the Venice Biennele in 2015. This is its first showing in England. In reference to arrows piercing the body of Saint Sebastian in Andrea Mantegna's 1490 painting, the stalks from a rape crop seemingly pierce the field of rape in bloom.
For more information on prospect  refuge  hazard visit www.crescentarts.co.uk
FarmerFlorist
Saturday 16 June – Sunday 15 July 2018
Britain is a nation of flower lovers with the cut-flower industry worth over two billion pounds a year, with many cut flowers travelling epic distances to reach weddings and mantelpieces. In recent times a number of British flower farms have sprung-up, fueled by a growing interest in locally grown and seasonal produce. Tessa's exhibition explores this new movement for 'fair trade in flowers' and celebrates domestic growers part and present. In a series of stunning photographs, Tessa sheds light on the individuals who are contributing to a vibrant, artisan cut-flower industry in the U.K.
The remaining programme for 2018 will be released shortly. The art gallery at Ryedale Folk Museum is free to visit and open whenever the Museum is open.