The Museum's art gallery is a fantastic art exhibition space in the North York Moors National Park. The art gallery is always free to visit and open whenever the Museum is open.
Earthworks by Simon Crawford
Saturday 13 April to Sunday 19 May
Open daily, free entry, 10am – 5pm
Meet the artist, drop in from 2pm – 4pm on Saturday 13 April
This exhibition by Simon Crawford explores the Yorkshire and British countryside, inspired by specific walks with dog and meandering explorations through landscapes of the places he loves. From photographs taken on his walks or small sketches done in the field, Simon has produced a series of colourful, impactful and large paintings, for this, his first solo show at Ryedale Folk Museum.
Simon studied History of Art and English at the University of Nottingham. He has exhibited widely in the U.K. and abroad, including a mixed touring exhibition organised the British Council to Moscow. In 2001, Simon won the Hugh Casson prize for drawing at the Royal Academy Summer Show, in which he continues to regularly exhibit.
Art Happens Here
Saturday 25 May to Sunday 7 July
Open daily, free entry, 10am – 5pm
Preview – Friday 24 May, 5.30pm – 7.30pm, all welcome
Formed in 2018, Art Happens Here are a new studio collective of artists based at Community House in Malton. In this self-titled exhibition, each artist presents an element of their current practice. With some works still in progress and others more resolved, this exhibition highlights the need for artists to develop in a supportive arena where values and interests can be discussed and nurtured. The artists – Andy Black, Kate Black, Serena Partridge, Rachel Renwick, Sally Taylor and Lyn Wait, see this exhibition, as an exploration of potential commonalities. The artists share a building from where they all work, but do their individual practices overlap and how might this exhibition contribute to their interconnectedness?
Artifact II
Saturday 13 July to Monday 2 September
Open daily, free entry, 10am – 5pm
Artifact II is the second collective exhibition of the Printmakers Circle to be shown at Ryedale Folk Museum. The Printmakers Circle are a group of professional artists based in North Yorkshire, who embrace the breadth of printmaking techniques. This exhibition will include a wide range of traditional and contemporary printmaking techniques and styles and will respond to the theme of 'artifact' – a man-made cultural object, reflecting and inspired by the rich heritage of arts and culture in Ryedale Folk Museum, its collections and surrounding area. The exhibition will feature a suite of specially prepared prints, exploring the theme through a range of relief and intaglio processes including etching, linocut, wood cut, wood engraving, collograph, monotype, screen print, drypoint and polymer.
Established in 2013, the artists of the Printmakers Circle, formed to counter the perception that opportunities to meet other artists and collaborate, is difficult in Britain's most sparsely populated county. The artists meet regularly to talk, work together and plan exhibitions.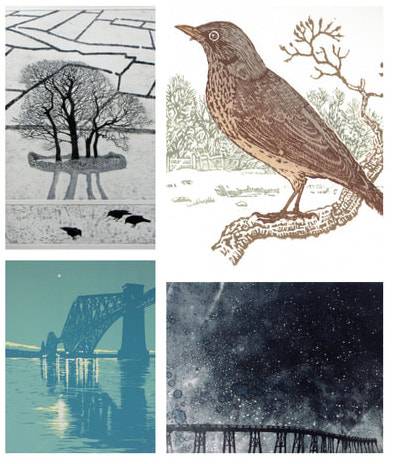 Previous Exhibitions at Ryedale Folk Museum
2019
The North York Moors, an open exhibition
2018
Of Life and Land by Lucy Saggers
Moor Colours by Sue Slack
prospect    refuge    hazard by Helen Sear
FarmerFlorist by Tessa Bunney
Of Yorkshire, From Yorkshire – from the David Ross collection
Figuratively Speaking – the Scott Creative Arts Foundation
2017
Time for Bed from the Ryedale Folk Museum collection
RyeScape by artists from Ryedale Collections by Hester Cox, Josie Beszant and Charlotte Morrison
Table – art works from Leeds Museums & Galleries
Call of the Land by John Creighton
Victorian Dresses from the Ryedale Folk Museum collection
2016
Etcetera by the textiles group, Etectera
Gallery TEN, an exhibition of selected works from Gallery TEN
Wedding Dresses from the Ryedale Folk Museum collection
Artifact by the Printmakers Circle