The Museum's art gallery is a fantastic art exhibition space in the North York Moors National Park. The art gallery is always free to visit and open whenever the Museum is open. The Museum and art gallery are now open on a daily basis until 2 December.
Of Yorkshire, From Yorkshire
Saturday 21 July to Monday 3 September
This exhibition features a remarkable selection of art works from the private collection of David Ross, a business man, philanthropist and founder of Carphone Warehouse. Featuring 12 paintings and 2 sculptures, all the works are by Yorkshire-born artists or are depictions of Yorkshire. They include pieces by David Hockney, Barbara Hepworth, Tony Bevan, John Atkinson Grimshaw and Harland Miller.
The works cast a light on the vibrant artistic-culture in Yorkshire, past and present and the inspiration of its towns, villages and landscapes on artists of different styles and mediums.
This exhibition has been made possible by public funding by Arts Council England and insurance thanks to the Government Indemnity Scheme, issued by the Department for Culture, Media and Sport.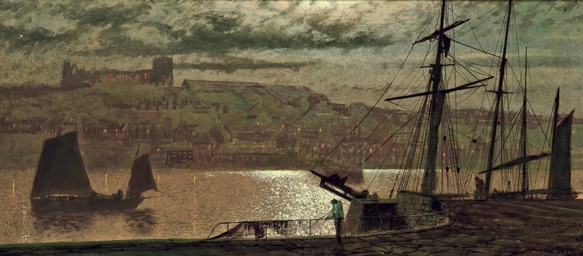 John Atkinson Grimshaw's Whitby by Night, 1864
The remaining programme for 2018 will be released shortly. The art gallery at Ryedale Folk Museum is free to visit and open whenever the Museum is open.