Our ethos as an organisation is very much community-focused. As the only museum telling the story of the people of the North York Moors, we work hard with our local rural community, collecting and preserving their heritage. Much of our activity is focused on a celebration of this special place. We believe in doing this in a way that is sustainable and take our responsibility as a charity that operates within the National Park seriously.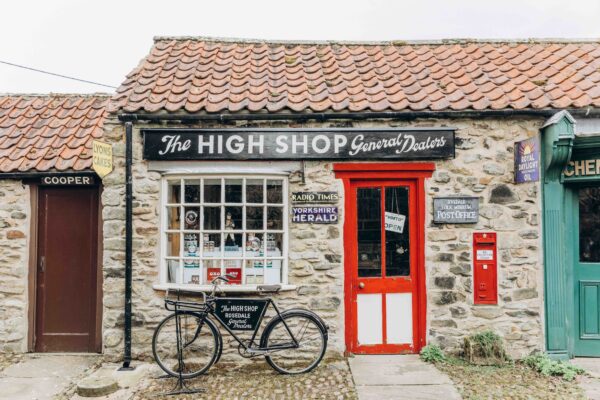 Over recent years, we have taken a number of significant steps to be more sustainable as an organisation. This includes encouraging more environmentally-friendly travel and carbon-emission reduction by:
Providing safe, free bicycle storage on site
Supporting local suppliers wherever we can, including Cosy Cottage from Malton, artist Charlotte Salt who produces ceramics from the studio collective AHH, also based in Malton, and Daisy Distillery based in Saltburn
Developing our own scheme to promote Hutton-le-Hole village to reduce driving by increasing time spent in the village
We have also developed our own environmentally-friendly practices around the site, by:
Using environmentally friendly cleaning products and paints
Recycling all possible materials and reducing waste, including composting our own garden materials across the site
Using recycled and recyclable products, for example our latest exhibition is on PVC-free recyclable panel boards
Making a commitment to reducing energy consumption through a variety of measures – we've reduced it by 25% since 2018
Encouraging biodiversity is an important part of what we do. This includes through:
The Museum and the National Park
Ryedale Folk Museum is proud to be located in the North York Moors National Park. It is a landscape to care for, and to enjoy – and we hope that the Museum helps to support both. We have operated as Visitor Information Point for the National Park for many years, helping visitors to explore the National Park and learn more about the North York Moors.
As a cultural heritage organisation, we also support and deliver the National Park Authority's first statutory purpose, which is 'to conserve and enhance the natural beauty, wildlife and cultural heritage of the National Park'. We are intrinsically linked to the National Park through the stories of the landscape and its people that we gather and share through our buildings and collections.