Tucked away at the top corner of the Museum's six-acre site, the cornfield is largely ignored for most of the year as visitors pass by on their way to the reconstruction Iron-Age Roundhouse.
But once a year, this patch of soil is transformed into a swathe of colour as friendly yellow corn marigolds, corn buttercups and wild daisies are punctuated by red prickly poppies. In amongst them, delicate pink corncockles push through.
The cornfield loudly asserts its presence each August. "Look at me!" it insists. "Aren't I splendid?"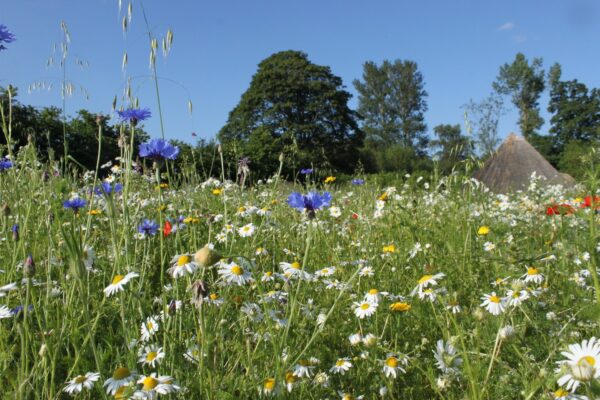 A glimpse of the roundhouse through the cornfield at the Museum
But it is perhaps surprising for many visitors to Ryedale Folk Museum to realise that at our cornfield they are encountering species that they may never see again. In fact, these arable wildflowers are only here at all because of a number of significant steps taken to ensure their survival.
A hundred and fifty years ago, the British countryside was a different place, botanically speaking. Then, an array of arable 'weeds' grew and coexisted within a range of crops. But during the mid part of the last century, several advances in agricultural production had devastating effects on British wildflowers. The corncockle (Agrostemma githago), for example, originated in England during the Iron Age but fell victim to modern seed-cleaning techniques.
A mildly-poisonous plant, the corncockle must have been the scourge of bakers, giving bread a distinctly bitter taste. It is perhaps easy to appreciate why any farming community might have been pleased to crush this gentle pink flower. Nowadays, it is virtually extinct in the wild.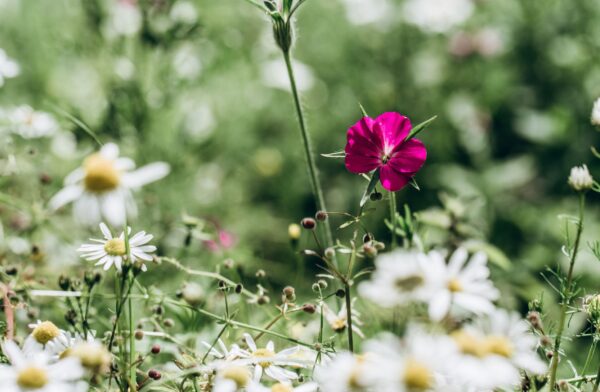 A delicate pink corncockle in Ryedale Folk Museum's cornfield
Also poisonous to humans, the large-flowered hemp nettle (Galeopsis speciosa) can even cause paralysis. However, it is highly-valued by bees and other pollinating insects, part of a wider ecosystem. Apart from its fairly-reliable presence at the Museum, it is normally only found in this country around the Midlands, despite having been present in the North York Moors National Park a century and a half ago.
Another occasional visitor to the Museum's cornfield is shepherd's needle (Scandix pecten-veneris). Currently classified as critically endangered, it is now almost unheard of outside of the south-east of England (Suffolk in particular). Preferring to occupy the margins around fields, its downfall has been the loss of these small strips of land, combined with the development of herbicides and fertilisers.
The chemicals that protect crops have played an important part in maximising yields for many decades now, but, sadly, have often made survival all but impossible for the likes of corncockle or shepherd's needle. Wildflowers evolved to thrive in land that is disturbed regularly – exactly the sort of churned-up soil that results from farming. As traditional habitats suddenly became inhospitable and even deadly to them, the loss of wildflower species was almost inevitable.
The journey towards a cornfield at Ryedale Folk Museum, dedicated to the survival of rare and critical-endangered plant species, began with the story of one woman (as these things often do). Local naturalist Nan Sykes conducted her own survey of the wild plants of the North York Moors National Park in the 1980s. Nan was disturbed not by what she found, but by what was so clearly missing from the landscape. She concluded dismally: "apart from a few common species, the arable plant flora has practically disappeared."
From this initial concern, many other individuals and organisations became involved, including local farmer Chris Wilson, the Carstairs Foundation, the North York Moors Association, the North York Moors National Park and, of course, Ryedale Folk Museum.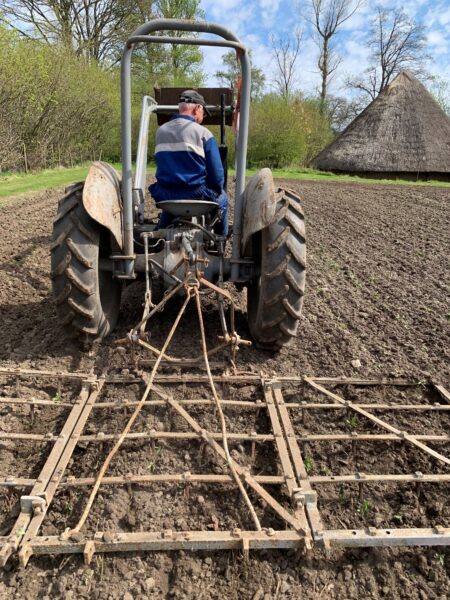 Preparing the cornfield today at Ryedale Folk Musuem, with a 'Little Grey Fergie'
In 1998, the Cornfields Flowers Project was officially launched and the following year a nursery and demonstration cornfield were established at the Museum. The aim was to protect and multiply the wild plants of arable fields in the region, focusing on a target list of species known to have been prevalent here as late as the early part of the twentieth century. Seedlings were nurtured and seed collected and deposited with Kew Garden's Millennium Seed Bank. The field also allowed project staff to share the project with farmers from the area.
Over twenty years later, work continues to sow wildflowers each year at Ryedale Folk Museum. The cornfield remains an important legacy to the original project and a source of excitement each summer. Many wildflowers are annuals, but some can lie undisturbed for years, ready to 'wake up' unexpectedly to surprise and delight.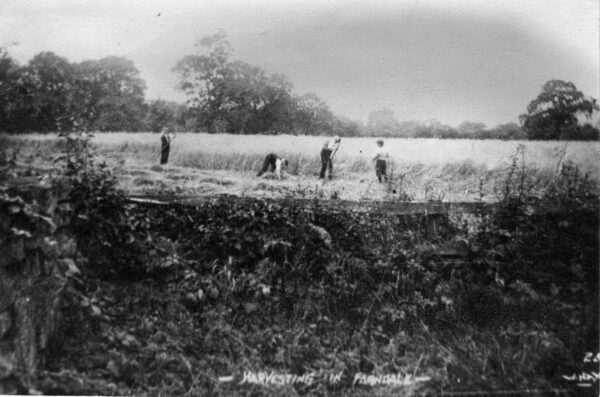 Historic photo showing harvesting using scythes, by William Hayes
The Museum has also commissioned new artwork by York-based artist Kate Semple to share the cornfield. Merchandise featuring the design can be purchased from the Museum shop, all proceeds from which go towards conserving the cornfield.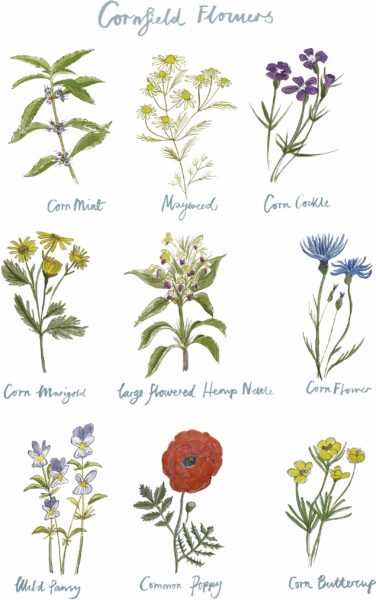 New designs by Kate Semple