Stang End was the first vernacular or domestic building to be reconstructed at Ryedale Folk Museum. It was also the building that allowed founder Bert Frank to begin to realise his real vision for the site. The offer of the cottage in the autumn of 1965 posed a very exciting opportunity for Bert. Whilst visiting other, more traditional museums, Bert had disliked 'the imprisonment of everything behind glass and the lack of communion between objects and people'.
Bert was keen to establish a true open-air site in the style of similar, new museums such as the Museum of English Rural Life in Reading (1951) or Beamish Museum in Country Durham (1958). In this way, Bert was moving towards a space in which visitors would be able to immerse themselves in the way of life from the past.
Nowadays, our visitors can explore traditional ways of living as part of their family day out on the North York Moors in more than twenty heritage buildings.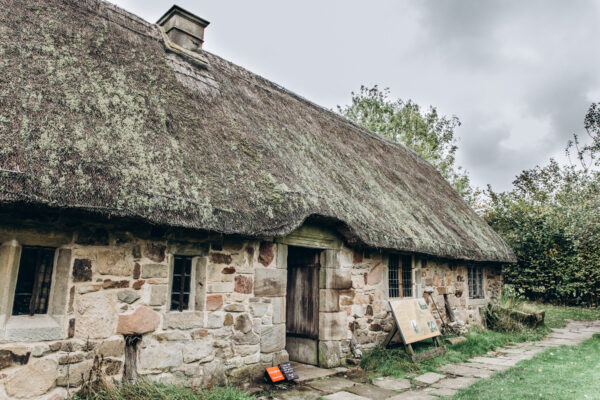 Stang End today by Angela Waites Photography
Stang End is an old, thatched cottage built of a cruck construction. Crucks were curved timbers used to support a roof by sloping inwards to form a ridge. This style was particularly popular in the region for longhouses built before c.1700. Other cruck frames can be seen at the Museum, including in the Manor House from the village of Harome. Bert also noted in his diary the use of 'wattle and daub' and that Stang End had been originally thatched using rye.
Despite the poor state of the building, Bert was particularly impressed with the 'fine oak panelling', 'salt box' and rare 'witch post'. On his first visit to the house in Danby, Bert removed these items so they could be stored safely until the building would eventually be reconstructed.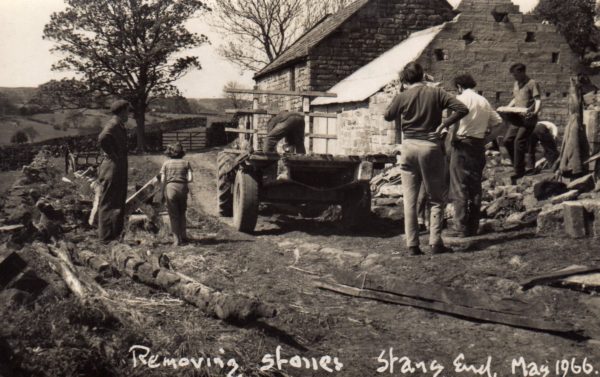 Removing the Stones, at Stang End's original location in Danby
At the Museum, the cottage has been restored to reflect the way of life of a farming family, John and Anne Huntley. The pair lived and worked in Stang End from 1704. This date is recorded in a commemorative inscription over the door, showing two interlocking rings to symbolise their marriage union. The Danby Parish Registers show they were married on the 18 May and that they had five children together – the first, Jane, born exactly nine months later on the 20 February.
In 1729, John sadly died, outlived by his widow Anne by a decade. From the inventory of John's goods, we can build a picture of their life in the cottage where they appear to have lived comfortably. As well as an array of household items and furniture, they owned 2 oxen, 3 steers (bullocks) and 5 kine (cows), husbandry gear for a wain (a type of waggon) and ploughing equipment. There are 8 debtors listed, showing John had income to lend, as well as other property in Danby and Whitby.
A literate man, able to sign his will, John was also an Overseer of the Poor in 1702 and 1722, the official who administered poor relief in the village.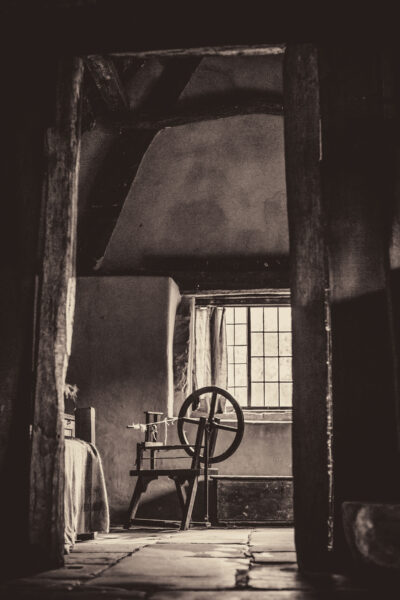 A glimpse into Stang End today, by Angela Waites Photography
Work at Stang End occupied Bert and his friends throughout the summer of 1966. (Strangely, he made no reference in his diary to the football World Cup.) Often there were as many as ten volunteers involved with the project in a day.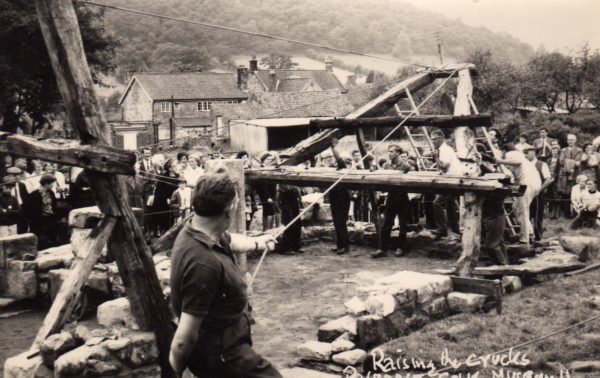 Raising the Crucks on July 15, 1967
The support was financial too. A Dalesman reader sent a cheque for £5 to help with Stang End, Mrs Roger donated £100 in memory of her husband, and £5 arrived from a Miss Doncaster of Sheffield.
In fact, it seems that Bert was grateful to accept assistance wherever it was on offer. On a chance visit to the Museum on 11 June, 1967, a Yorkshire Post reporter and photographer were enlisted to help to erect the first pair of crucks. A month later, on 15 July, Bert seemed relieved to note that the 'rearing of the [main] crucks went without a hitch' – quite an undertaking with a celebratory event taking place around it. A formal ceremony was held that day, with Morris dancers performing to entertain the gathered crowd and the Countess of Feversham laying the saltbox.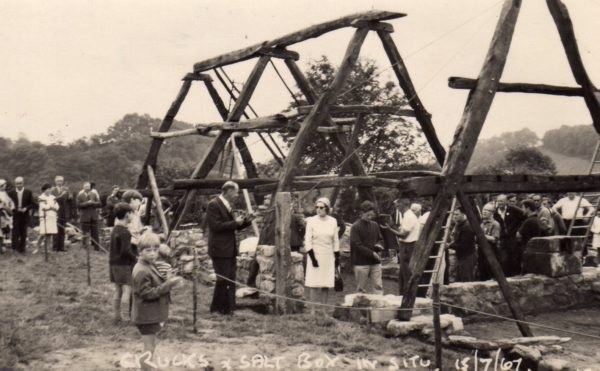 Laying the Saltbox at Stang End
Salt would have been highly valued by the Huntley family, required in large quantities for salting beef, mutton, pork, fish and butter.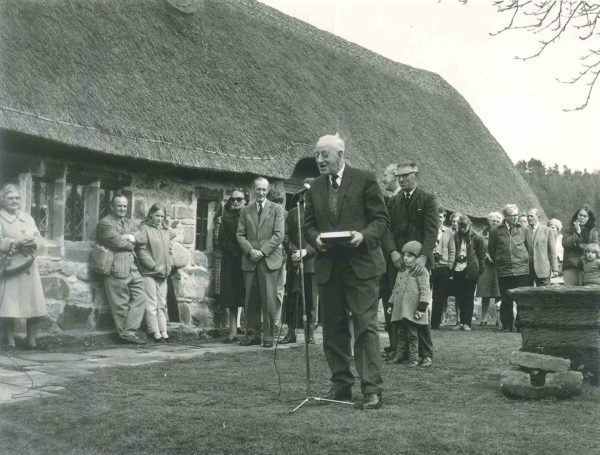 Raymond Hayes officially opening Stang End, taken by Geoffrey Willey
For Bert, work continued throughout the autumn and winter. Local thatcher, Seth Eccles, thatched the roof with over six tonnes of wheat straw. The following spring, the remaining building material was used to construct a small 'witch's hovel' which has proved popular with visitors ever since.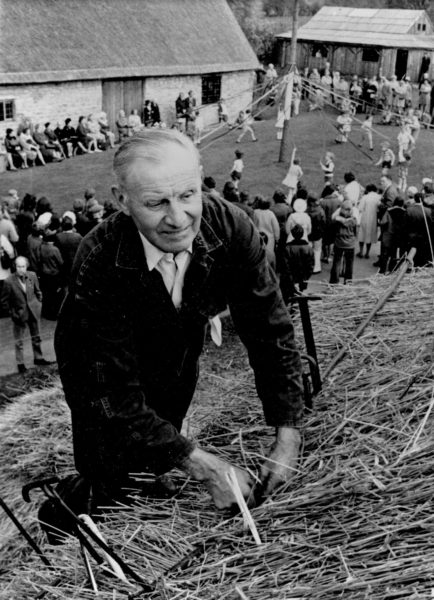 Seth Eccles thatching another building at the Museum during May Day celebrations