There are over two thousand varieties of apples grown in this country. Sadly though, many of us are more likely to recognise Golden Delicious from the United States, Granny Smiths from Australia, or Gala and Braeburn from New Zealand, than local varieties from our own region. Our heritage orchard tries to set this right! Here, you can sit at a picnic table and relax as part of your family day out, surrounded by over forty native fruit varieties, including apple, pear and plum trees. Many have strong connections to North Yorkshire.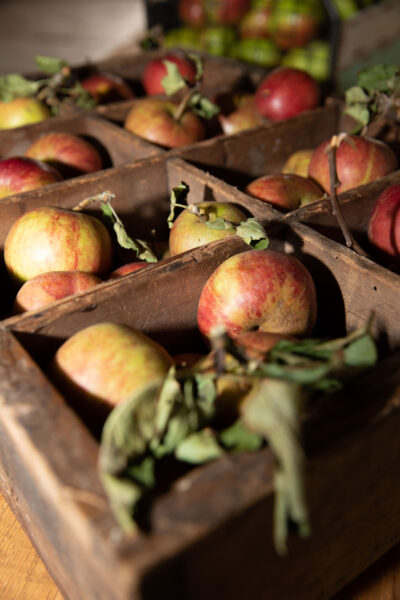 Fruit display for Apple Day, taken by Angela Waites Photography
Overseen by Museum Manager at the time, Kevin Simms, the orchard was planted in 2008 in direct response to orchards being placed on the Priority Habitats list the previous year. Children from nearby Gillamoor Church of England School assisted Kevin with some of the planting.
Throughout the process, the team worked closely with award-winning plant nursery R. V. Roger of Pickering to select varieties. These would grow on the site at their own pace, without the pressure for high yields caused by intensive fruit production. It means that the Museum Orchard provides a lovely opportunity for visitors to see rare and traditional varieties. However, it also increases biodiversity in the area, providing habitat for beetles, for example, and blossom for pollinating insects.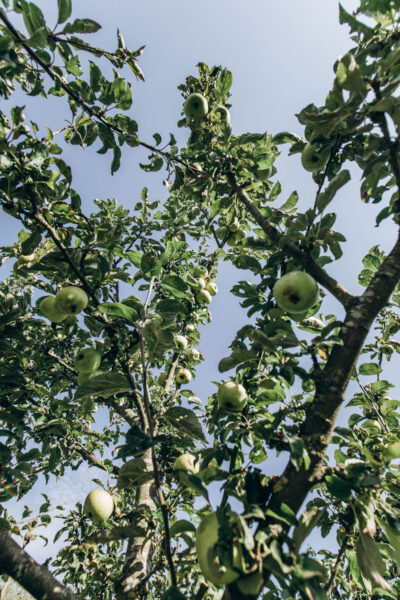 Hornsea Herring tree, a Yorkshire variety in the Museum Orchard
A traditional way of life
Fruit production has been an important part of life in Ryedale for centuries. Across the region, cottagers would often have relied on apples from the garden to pay their rents. It is clear from the 1856 Ordnance Survey that there were larger orchards in Ryedale villages such as Harome, Wombleton, Nawton and Beadlam, with rows of neat trees suggesting a high level of organisation.
Husthwaite was another important orchard village and during the last decade over a thousand trees have been planted to restore this former heritage. At the end of the 19th century, both plums and apples from Ryedale were sent on the Friday night train to Whitby, where they arrived at 7am on Saturday morning, ready for the market.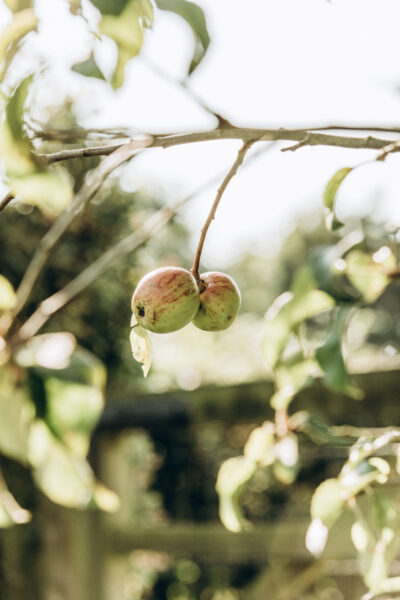 The hardy Hunthouse at the Museum
Beyond the Museum orchard, the allotment garden is located on the left. The fruits and vegetables within are grown by dedicated volunteers; a rather lovely raspberry patch is a reminder of Ryedale's long history of trading soft fruits. Historically, different villages had their own specialisms. Thornton-le-Dale supplied raspberries via the railway to jam factories such as Hartley's in Aintree; Snainton produced mainly redcurrants; and Marton and Normanby provided gooseberries.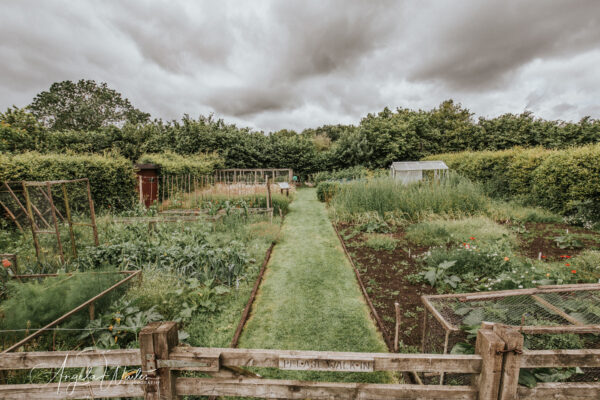 Take a trip to the North York Moors and enjoy the allotment garden, packed with fresh produce from Yorkshire
Historic Yorkshire varieties
One variety to look out for at the Museum is the small but hardy Hunthouse, closest in origin geographically and taking its name from Hunt House in nearby Goathland on the North York Moors. This fruit is of particular historical significance due to being selected to accompany explorer Captain James Cook on his voyages. The high vitamin content was hoped to keep scurvy at bay as he traversed the world. We would be delighted if Hunthouse became a household name again, along with Green Balsam ('The Farmer's Wife's Apple'), Ribston Pippin ('The Glory of York') and Hornsea Herring, just some of the specialist Yorkshire varieties.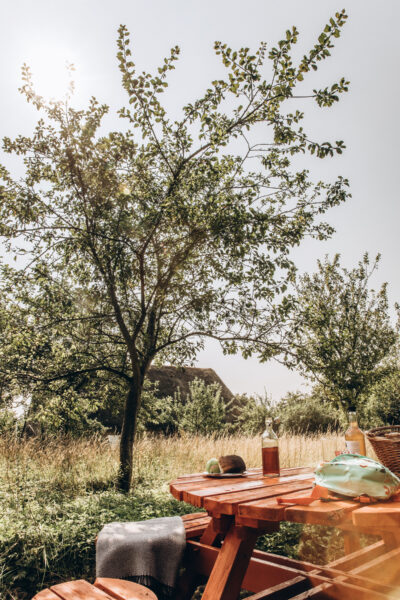 Picnicking at the Museum today, the perfect family afternoon
Folk Traditions and Recipes
In another part of the Museum, outside the potting shed, there is also a large stone slab, an example of part of a rare Verjuice or Verjus Press. Verjuice was the name for the very acidic crab-apple juice produced. It was used frequently for culinary purposes throughout the Middle Ages, in recipes where we would tend to use vinegar or lemon juice today. The fruits were pressed with a beam, with the juice running off through a channel carved into the stone.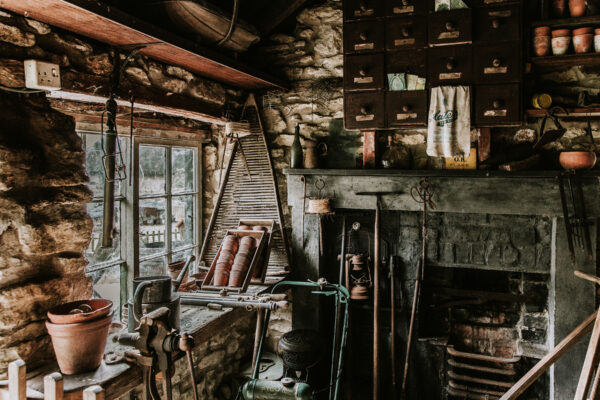 Inside the Potting Shed
Traditionally, an unfortunate village parson could also expect to be 'crabbed', pelted with crab apples! This would take place on the Saint's Day for his village church. (For anyone thinking of renewing this tradition, Hutton-le-Hole church is dedicated to St Chad, whose feast day is celebrated on 2 March.)
Fruit has also been used in folk medicine for centuries. Apples are now known to help lower cholesterol, but cherries were also a traditional remedy for both whooping cough and kidney stones. Oil from plum stones was also used to treat sore throats and earache. Our Witch's Hovel, constructed in the spring of 1968, represents the type of building where the local healer or 'wise woman' might have resided. We love sharing Yorkshire folklore – follow us on Facebook for folklore stories from the North York Moors!
All photos by Angela Waites Photography