The Blacksmith Forge was one of the very first buildings constructed at Ryedale Folk Museum. It was built over the course of one month during the autumn of 1966. Based approximately on a mid-Victorian forge, it remains a popular space with visitors, with a blacksmith working regularly during events at the Museum.
The local smithy
In April 1968, our forge was supplemented with a hearth, chimney and bellows from a blacksmith premises in Potter Hill, Pickering, run by the family of a Mr Taylor for several generations.
The role of the smithy was once indispensable, with one to be found working in most villages. He would be occupied constantly in shoeing horses, making and repairing a range of tools and implements for farms and other tradesmen, and hooping wheels for waggons and carts. This process involved heating the metal tyre so that it expanded enough to be placed around a wooden cartwheel on a 'hooping plate'. Cool water would be applied to contract the metal tyre to fit the wheel.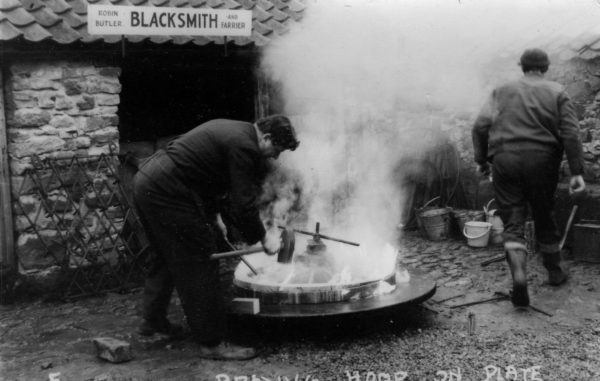 Robin shown hooping a wheel outside the Museum Forge, taken by Raymond Hayes
Robin's role
The Museum's very first blacksmith was Robin Butler. An early volunteer, Robin was heavily involved in the physical construction of the Museum, whilst his wife, Edith, also undertook a range of roles including that of Museum Witch.
Robin grew up in Kirkbymoorside and his connection with the Museum began when he heard 'they were looking for big, strong blokes' – a description that he certainly fit. Robin described the continual process of 'learning and adapting, of finding ways to make things happen' throughout the late 1960s and early 1970s. Preserving the buildings involved a great deal of skill and care, but there was an equal measure of physical hard work – or as Robin called it, 'sheer brute force'.
Robin's strength was to be utilised time and again, for example, for the manoeuvring and relocation of the heavy Rosedale Glass Furnace or when raising the crucks at the seventeenth-century longhouse, Stang End.
It was on the day of the ceremonial cruck-raising event for Stang End that Robin found himself volunteering as a blacksmith here for the first time. It was an experience that Robin was to repeat hundreds of times throughout the rest of his life.
That day, Robin was asked by Museum founder, Bert Frank, to light a fire, using the bellows to create atmospheric smoke for the occasion. Instead, Robin began experimenting with making a range of objects, watched by an interested crowd.
Robin's legendary clout nails
That day, Robin settled on producing 'clout nails', so called because of their large heads. Each one could be achieved in just three to four minutes whilst demonstrating a range of blacksmithing processes involved.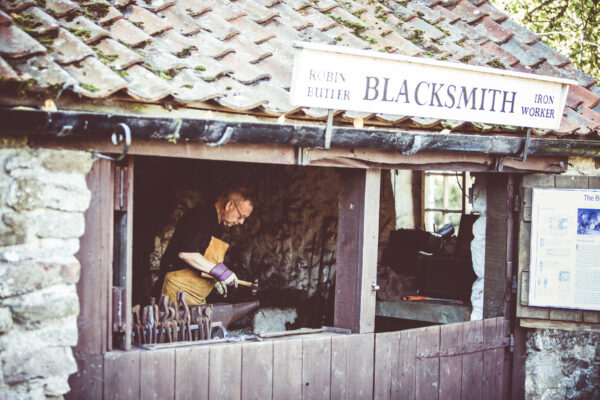 Blacksmithing today, in the Museum Forge
Robin's nails were to become something of a signature item. Years later, he presented television-personality Anneka Rice with one after an episode of Treasure Hunt ended at the Museum's maypole.
Long before making these nails at Ryedale Folk Museum, Robin had also produced them for furniture made by Robert Thompson, the esteemed 'Mouseman of Kilburn'.
A smithing heritage
Robin's own expertise was learned locally, under Wilfred Dowson. After the Second World War, Dowson had employed as many as twenty apprentices at 'Kirk Forge', developing a national reputation for fine wrought ironwork and eventually becoming a Freeman of the City of London.
'Kirk Forge' was one of two forges in nearby Kirkbymoorside at that time, both run by members of the Dowson family. Unlike 'Ryedale Forge', where the blacksmiths specialised as farriers, shoeing horses for members of the thriving local hunt scene, Robin was engaged with a range of creative projects. Consequently, he was part of the team that made the railings for Windsor Castle which surround the tomb of George VI.
During his time here, Robin was keenly aware of his historic connection with blacksmiths across thousands of years, called to 'express themselves in artistic as well as practical ways'. Whilst volunteering, he was also delighted to train a young apprentice, Charlotte Bramley, noting that a female blacksmith was unheard of when he learnt the trade.
Robin returned to the Museum Forge to make another of his signature nails on his eightieth birthday.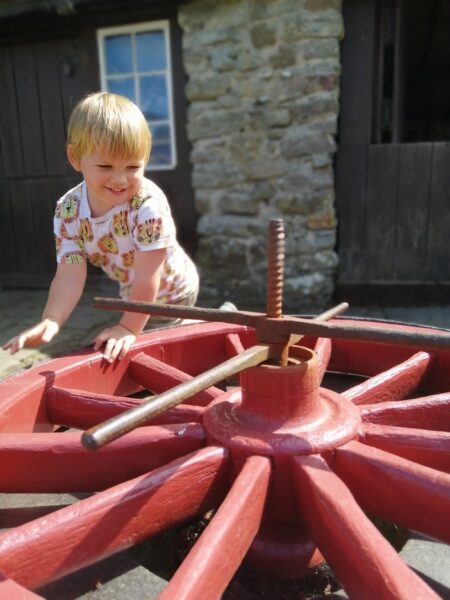 The hooping wheel outside the Museum Forge today